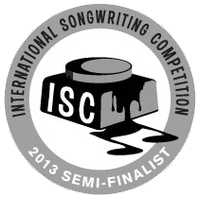 I'm pleased to announce that "Midnight" has made it into the semi-finals of the 2013
International Songwriting Competition
!  I am so very excited to be a part of the competition, and am so proud that this song has been chosen to move into the next stage of the competition out of nearly 19,000 total contest entries.  Only 8% of the total submissions moved on, and so even making it this far is a huge accomplishment!
I would like to thank the extremely talented
Morgan Taylor Reid
for his invaluable contributions to this track, and of course I would like to thank all my friends, family and my growing fan-base for supporting this budding project and appreciating the music.  Please continue to send good vibes in this direction as we wait to see whether we advance into the final stage of the competition!
The list of all semi-finalists for 2013 can be found here:
http://www.songwritingcompetition.com/semi-finalists.html