So, I recently launched a VLOG series called 'Color Commentary' where I share thoughts on various topics...so far they've been topics focused around music, entertainment, creativity and the industry that surrounds it all, but they may not all stick to that format in the future.
Really, I'm looking at this as a bit of an experiment, and an opportunity to start conversations around various topics. This week, I wanted to dive into a conversation that I believe is crucial to the survival of the music industry which is the disparity between how much an artist can earn from streaming vs. sales.  One of my goals was for this episode to be slightly shorter than the last, but I also wanted to dive a bit deeper (which I'm doing here, thank you for reading!) and get into why I believe this topic is so important.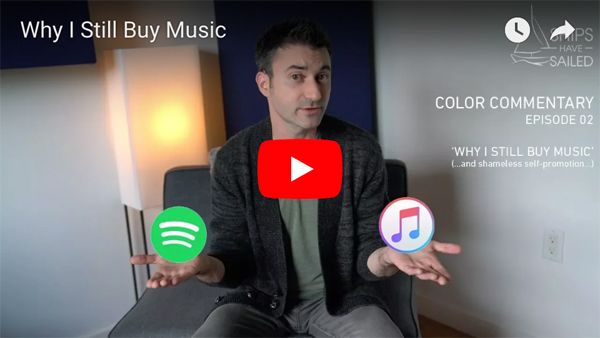 I will say that I spent a lot of time and energy thinking about how to attack this conversation, and I decided to simply explain why I still buy music, and why I still feel it's so important. To be clear though, I'm not condemning streaming companies, and I'm not discouraging people from streaming - I spend a couple moments towards the end of the video explaining what I love specifically about Spotify, who have been great about creating a platform that adds value for artists themselves...something that digital stores tend not to do.
This is precisely why the conversation is so important: people have said that streaming will be the 'death' of the music industry, and I completely disagree.  If we are able to adjust the laws and operating model around the way streaming revenue is tracked and distributed so that artists are getting a bigger piece of the pie, streaming could actually save the music industry before it implodes.
So there you have it...you can watch the video by clicking on the image above, and I would love it if you would join the conversation!
See you in the comment thread! ;-)
-Will